Post Your Trainer Card Here!
Go to page :

1, 2
Sora989
Uber Trainer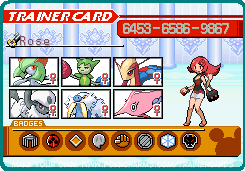 This is only one of mine to see all of them they are at my site.
_________________
My site http://lugia9897.webs.com/
I have a habit of screwing up.
I like alot of songs

DAWN
pokémon crew
dream league

"I'll watch this no longer. Today I will fight"
Go to page :

1, 2
Permissions in this forum:
You cannot reply to topics in this forum